Kinsale Golf Club Members Achieve Stunning Double.
 In a rare double, Kinsale GC members Cathal Butler and John Murphy were awarded Munster Senior and Junior Golfers of the Year.  The citations from Munster Golf, announced at the Munster Delegates Meeting on Tuesday:
 This year Munster Golf awards the Senior Golfer of the Year to no one other than Kinsale's Cathal Butler. After coming back from injury for 3 months, and after spending most of his time preparing for the season in Portmarnock, Cathal came back in style and winning:
 Fota Island Senior Scratch Cup
Munster Stroke Play
Killarney Senior Scratch Cup
 Cathal was also selected for the World University Games, where his Team Maynooth University won a silver medal and he finished tied 15th in the individual championship. Cathal was also selected on the Munster Senior Interprovincial Team. He finished well in high ranking championships such as South of Ireland, East, West and Irish Amateur Close. Cathal is also the winner of our Senior Order of Merit for 2016.
By any yardstick, John had a superb year in Junior Golf. He began by winning the U18 in the Munster Youths and then took part in a friendly match against France. In July he had a fantastic win in the Munster Boys, with birdies on the last two holes; two weeks later he was second in the Ulster Boys.
 In the Boys Interpros in Tullamore, he won a very creditable 3.5 points out of 6, singles and foursomes. Top twenty or better finishes followed in the Connacht and Ulster Boys. John led the qualifiers in the European Boys Team Championship and contributed handsomely to Ireland's fine win in the event, securing promotion to Division 1 in 2017.
 He is also the winner of our U18 Order of Merit for 2016. For consistently producing high quality golf throughout the season, John is the worthy recipient of the Junior Golfer of the Year.
 Captain Chris Cronin congratulated both players on their hard earned awards, and spoke about the obvious respect for the two Kinsale members within Munster Golf. "It is a credit to the boys and their families, and to all who have supported them over the years. We have an terrific environment for young talented golfers and sincere appreciation must go to those responsible, with a special mention to Ger Cullinane, Ger Broderick and Ian Stafford."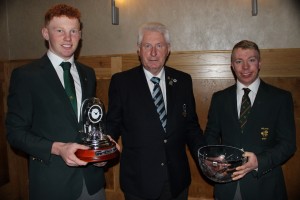 John Moloughney, Chairman Munster Golf, presenting John and Cathal with their awards.