The days leading up to our regional championship were relatively boring, consisting of just practice and preparation, so there's no point really talking about that. The fun started on Sunday the 12th of May when some of the best teams in the country arrived and we got to catch up with them at the range before the practice round. It's always cool hanging out and having fun with some of the best players in the world right now, like Viktor Hovland and Matthew Wolff. Fuzzy Zoeller came to speak to us on Sunday evening, so it was pretty cool to get tips from a former Masters champion.
On Monday, it all kicked off. The event we had prepared for all year was about to begin. It was the start of the national championship, and we got to play it on our home course. There were 12 teams, the top 5 of which would progress to the final. The competition format was to count the team's best 4 out of 5 scores. On day 1, we had a rough start. We struggled for our first 9 holes, but battled back tofinish -4 for the day. This had us in 3rd place and we were in a tie with Oklahoma State and Auburn which we knew would attract a lot of crowds the following day. We went to bed quite excited that night at the thought of playing with them. I shot a 70 (-1) on the opening day and I was sitting in about 12th position.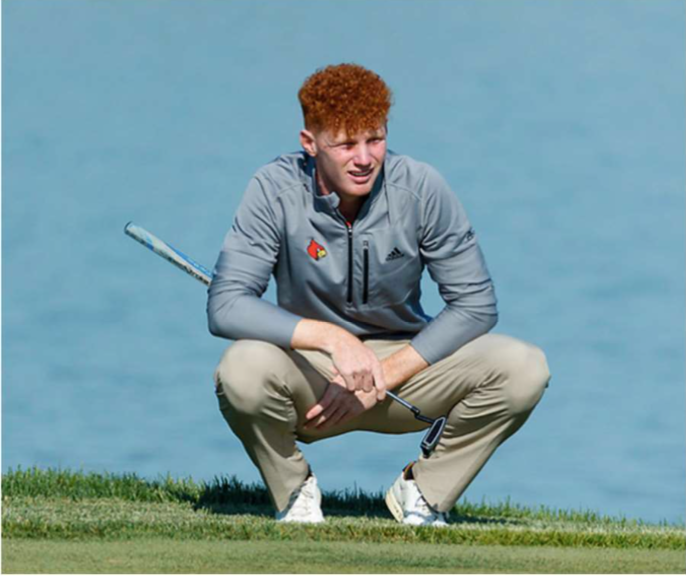 On the Tuesday morning, we woke up, and I sensed that some of that excitement might have turned to nerves. There wasn't much talk on the way to the course and we felt a little bit edgy. I thankfully got off to a very nice start. I was -3 after 5 holes, but finished up with a 69 (-2). We had to count a 78 this day, so we shot +7 as a team, but we were still placed in the top 5 and ready to go for the next day. We were playing with Iowa State and North Florida, who were sitting in 4th and 6th respectively. We went out for dinner to a nice steakhouse that night. We got back at 7:30, and I went to bed at 8, which was the earliest I have ever gone to bed. The week was already draining me.
The Wednesday was another early start. My alarm was set at 5:20 for an 8am tee time. Everything was going smooth. The warm up went well, the first 9 holes felt steady, the atmosphere was good. I was very comfortable, and the team was easily making it through. I bogeyed 1,3 and 5 to go to +3 for the day and when I got to the 6th hole, I could sense the tension. Everything felt a bit dull. We were in 7th place with the hardest stretch of holes to come. Thankfully, I made a couple of birdies on 7 and 8 and held a lengthy par putt on 9, which helped us squeeze back into the top 5. We managed to qualify and make it to the national championships which are on next week in Arkansas. Hosting the regionals was a tiring and action packed few days but I'll never forget it. I took the Thursday off and did quite literally nothing but watch Brooks Koepka dominate the PGA Championship for the day.
I'm looking forward to getting some work done over the next few days to try and get ready for the National Championship. To contend at that, we will need to bring our absolute best. My game feels like it's certainly heading in the right direction. On top of this, I am also very much so looking forward to going home. I have my bags packed and ready to go, so I will be returning home straight after nationals!
John